As 100 músicas mais tocadas na programação da BestRadio Brasil em 2012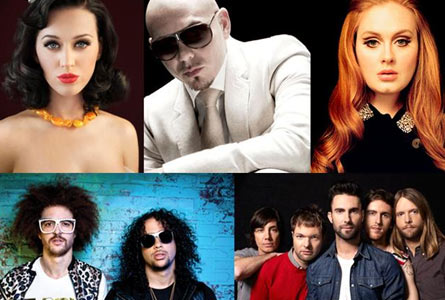 A BestRadio Brasil tocou muita, mas muita música (e boa, claro) em 2012. Desde o Pop, Rock, Dance e R&B.
Confira agora o levantamento que fizemos das músicas que mais tocaram na programação da Best no período de 01/01/2012 a 31/12/2012.
ATB – Ecstasy
Adele – Set Fire To The Rain
Adele – Skyfall
Alex Clare – Too Close
Alexis Jordan – Happiness
Anouk – Nobody's Wife
Bag Riders – Way Back Home
Britney Spears – Criminal
COG – Run
Calvin Harris feat Ne-Yo – Let's Go
Capital Inicial – Eu Nunca Disse Adeus
Carly Rae Jepsen – Call Me Maybe
Cher Lloyd – Want U Back
Chris Brown – Don't Wake Me Up
Chris Brown – Turn Up The Music
Christina Aguilera – Your Body
Coldplay – Charlie Brown
Daniel Bedingfield – Gotta Get Thru
David Guetta feat Chris Brown & Lil Wayne – I Can Only Imagine
David Guetta feat Nicky Minaj – Turn Me On
David Guetta feat Sia – Titanium
Demi Lovato – Give Your Heart A Break
Dev – In The Dark
Dr Dree feat Snoop Dogg – The Next Episode
Ellie Goulding – Lights
Emeli Sandé – Heaven
Enrique Iglesias feat Sammy Adams – Finally Found You
Evanescence – What You Want
Far East Movement feat Justin Bieber – Live My Life
Flo Rida – Whistle
Flo Rida feat Sia – Wild Ones
Foo Fighters – Dear Rosemary
Fun – Some Nights
Fun feat Janelle Monáe – We Are Young
Garcia Goodbye – Secrectly
Gerhardt – Lady, Drive Home
Gin Blossoms – Follow You Down
Gotye feat Kimbra – Somebody That I Used To Know
Gym Class Heroes feat Neon Hitch – Ass Back Home
Jennifer Lopez feat Pitbull – Dance Again
Jessie J – Domino
Jota Quest – Mais Pero de Mim
Jota Quest – Seis e Trinta
Julian Casablancas – 11TH Dimensions
Justin Bieber – Boyfriend
Justin Bieber feat Big Sean – As Long As You Love Me
Karmin – Brokenhearted
Katy Perry – Part Of Me
Katy Perry – Wide Awake
Ke$ha – Die Young
Kelly Clarkson – Stronger
Kings of Leon – Use Somebody
LMFAO – Sorry For Party Rocking
Lady Antebellum – Just a Kiss
Linkin Park – Burn it Down
Madonna – Give Me All Your Luvin'
Marcelo D2 – A Procura da Batida Perfeita
Maroon 5 – One More Night
Maroon 5 feat Wiz Khalifa – Payphone
Muse – Time is Running Out
NX Zero – Não é Normal
Ne-Yo – Let Me Love You (Until You Learn To Love Yourself)
Nelly – Just a Dream
Nelly Furtado – Big Hoops (Bigger The Better)
Neon Trees – Everybody Talks
Nicky Minaj – Pound The Alarm
Nicky Minaj – Starships
One Direction – Live While We're Young
One Direction – What Makes You Beautiful
Owl City & Carly Rae Jepson – Good Time
P!nk – Blow Me (One Last Kiss)
PSY – Gangnam Style
Paramore – Playing God
Phantogram – Don't Move
Pitbull feat Chris Brown – International Love
Rebecca Black – Friday
Red Hot Chili Peppers – Look Around
Rihanna – Diamonds
Rihanna – Where Have You Been
Rita Ora – How We Do (Party)
Rudmental feat John Newman – Feel The Love
Selena Gomez – Hit The Lights
Simple Plan – Astronaut
Skillet – Hero
Stromae – Summertime
Studio Killers – Ode To The Bouncer
Swedish House Mafia – Don't You Worry Child
Taylor Swift – Red
The Wanted – Glad You Came
Tiko's Groove – I Don't Know What to Do
Tyga – Rack City
Usher – Climax
Usher – More
Usher – Scream
Wale feat Gucci Mane – Pretty Girls
Wanessa feat Ja Rule – Fly
Wiley – Wearning My Rolex
Will.I.Am feat Eva Simons – This is Love
Yves Larock – By Your Side
Zedd – Spectrum
Isso por que aqui só tem as 100 mais tocadas. Mas tocamos muita coisa legal em 2012!
Em 2013, não será diferente. Estaremos levando até você, 24 horas, as melhores músicas, com a melhor qualidade e os melhores programas.
BestRadio Brasil
Quem ouve, curte!
FELIZ 2013!